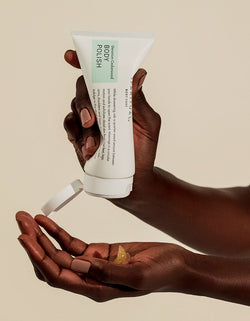 Slow Beauty® Geranium Cedarwood Body Polish
Our Body Polish is formulated with ancient healing ingredients including Coconut Sugar, Ginger Root Extract, Jojoba Oil and Sunflower Oil to help soothe and moisturize. This renewing blend gently exfoliates, and deeply hydrates skin and uplifts the senses.
9000201 | 6 Fl Oz/ 177 mL
Vegan. Cruelty-Free. Organic Ingredients. Nature-Derived.
FORMULATED WITHOUT
Parabens, Petrochemicals, Synthetic Fragrances and Dyes, GMOs, and Gluten
EARTHY. FRESH. ELEVATES THE SENSES.
Geranium Cedarwood
Indulge in uplifting Slow Beauty Rituals with Geranium Cedarwood Body Salve. Earthy Cedarwood helps ground you while refreshing Geranium revives skin and uplifts the senses.
Slow Beauty® Geranium Cedarwood Body Polish
Key Ingredients
Coconut Sugar
Coconut sugar is a natural humectant, drawing in moisture from the environment to keep skin hydrated and nourished. It's also a natural source of glycolic acid, encouraging cell turnover, keeping skin fresh and supple.
Ginger Root Extract
Ginger contains around 40 antioxidant properties that prevent free radical damage and protect against aging. It acts as a circulatory stimulant while improving skin elasticity.
Sunflower Oil
High in Omega-6 Fatty Acids and Vitamin E, Sunflower oil helps protect the collagen and elastin in the skin. Omega-6 acid helps decrease inflammation in the skin and enhances the development of new skin cells.
The Ritual
While showering, rub a quarter-sized amount between your hands to open the scent. Massage in a circular motion and exfoliate dead skin from your feet, legs, arms, shoulders, and torso. Rinse off residual polish. Indulge in this ritual and reflect, renew and stimulate.