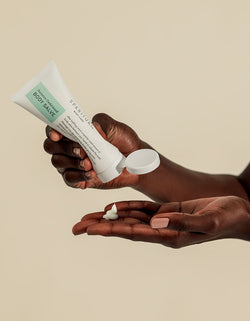 Slow Beauty® Geranium Cedarwood Body Salve
Our Body Salve is formulated with ancient healing ingredients including Carnauba Wax, Cocoa Butter and Jojoba Oil. This rich treatment melts into skin to deeply hydrate and moisturize while our comforting scents awaken the senses.
9000221 | 3.4 Fl Oz / 100 mL
Vegan. Cruelty-Free. Organic Ingredients. Nature-Derived.
FORMULATED WITHOUT
Parabens, Petrochemicals, Synthetic Fragrances and Dyes, GMOs, and Gluten
EARTHY. FRESH. ELEVATES THE SENSES.
Geranium Cedarwood
Indulge in uplifting Slow Beauty Rituals with Geranium Cedarwood Body Salve. Earthy Cedarwood helps ground you while refreshing Geranium revives skin and uplifts the senses.
Slow Beauty® Geranium Cedarwood Body Salve
Key Ingredients
Carnauba Wax
Derived from the tropical palm tree, Carnauba Wax creates a protective barrier that helps the skin retain moisture and softness. This odorless, hypoallergenic wax is beneficial for all skin types and is especially suitable for sensitive skin.
Cocoa Butter
Cocoa Butter contains high levels of vitamin K, vitamin E, and essential fatty acids to hydrate and nourish the skin and improve elasticity. It forms a protective barrier to hold in moisture, repairs damaged skin and heals scaring.
Jojoba Oil
Contains a high level of antioxidants and is full of nutrients like Vitamin E and B. Jojoba contains antioxidants and minerals like chromium, copper, and zinc that nourish and protect the skin. 

The Ritual
After bathing, warm a quarter-sized amount of body salve between your hands to release the scent. Massage into skin using long strokes giving extra attention to joints. Allow the body salve to absorb into skin. Indulge in this daily ritual and reflect on self-love..